Joseph Albert Trover
1915 - 2002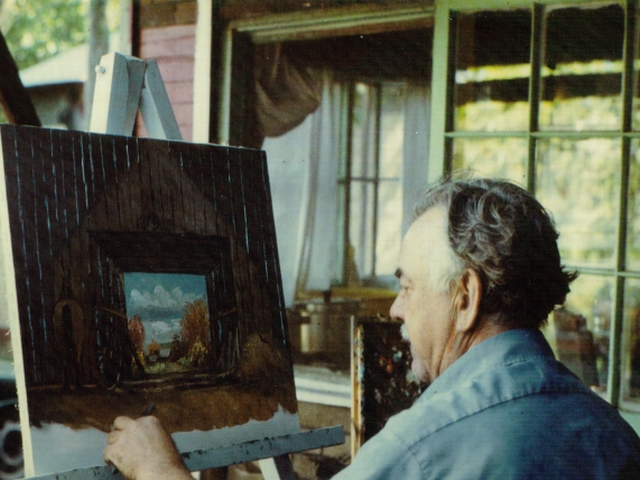 Birthdate: February 26, 1915

Birth Place: Four Corners, Indiana, Vermillion County

Indiana Hoosier Artist Career: 55 Years

Art Education:
Studied with Indiana Artists:
Simon Baus, George Jomess, Curry Bohn, Edward Sitzman

Art Leagues and Associations Member:
Hoosier Art Salon
Indianapolis Art League
Hendricks Country Art League
Plainfield Art League
Brown County Art Association
Hoosier Hills Art Association
Southside Art League
Fort Myers, Florida Art Association - Fort Myers, Florida
Pine Island Art League - Pine Island, Florida
Covered Bridge Art Association - Park County, Indiana

Art Awards And Prizes:
Albert E. Uhl Memorial Award - Hoosier Salon - 1961
Tri Kappa Purchase Prize - Hoosier Salon - 1965
Fine Arts Exhibitor Award - State House Salon - Indianapolis
Nominated for the Traci Award - Met. Arts Council - 1978
Paintings displayed in Washington D.C. U.S. Senate Office
Numerous State Fair Art Show Ribbons
Numerous Art Show Awards in Brown County, Hendricks County, Clay County, Park County, Indianapolis; also, Fort Myers, and Pine Island, Florida.

Permanent Collection Known Are:
Kokomo Howard County Public Library - Kokomo, Indiana
Methodist Hospital - Indianapolis, Indiana
Dearborn County Hospital - Lawrenceburg, Indiana
Brown County Art Barn - Bean Blossom, Indiana
Churches, Restaurants and private collection in Indiana, Illinois, Kentucky, Michigan and Florida

Art Instruction History: 40 Years

Indiana:
Mary Riggs Social Center - Indianapolis
West Side Art Center - Indianapolis
Lamplighter Art Studio - Indianapolis
Speedway Art Association - Speedway
Greenwood - South Side League
Eli Lilly Recreation Center - Indianapolis
Private Homes in Indianapolis area including the home of Marvin Kingery, and Dr. Edward Sarrano
Numerous locations in Brown County, Clay County, Plainfield, Danville, Rockville, Terre Haute, and Brazil

Private and Social Classes Outside Indiana:
Illinois, Kentucky, Florida

Judging of Art Shows:
Indiana State Fair Senior Citizens Art Shows
Plainfield Art League Shows
Indianapolis Art League Shows
Paris Art League Shows - Paris, Illinois
Kentucky Art Shows
Artists Guild of Indiana

Demonstrations Given:
Demonstration at every Art Association mentioned above plus many more (including)
Sullivan Area Art Guild
The Arts Studio in Brownsburg, Indiana
Purdue University
Avon, Indiana
Black Curtain Dinner Theatre
Wabash Valley Art Association
Cape Coral Art League - Lee County, Florida

Painted and displayed for Lyman Brothers Gallery - Downtown Indianapolis
Labeled "Master of the Pallet Knife" by the students and associates of the South Side Art League, Indianapolis, Indiana.